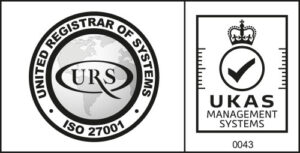 HJS Technology are proud to have been awarded the coveted ISO 27001 certification.
Our decision to work towards this internationally recognised security standard is a reflection of the commitment we have, to ensuring the highest standards of security in the working practices and data control within HJS Technology.
We work closely with our customers to help them ensure that their systems and data are secure. Gaining this external certificate provides reassurance that we have the expertise and procedures in place within our own systems, and therefore have the relevant experience from which to provide advice, support and related IT services.
Gaining the certification involved a review of all our internal procedures, the completion of detailed documentation, initial and on-going staff training and an extensive external audit. It certainly wasn't a quick process! – but one that we felt was well worth investing in for the benefit of existing and future customers.
In addition to providing a benchmark to external parties, it also provides us with the reassurance that we are working to the high security standards that are needed in today's ever-changing technological world. Out customers have the reassurance that we have the commitment to look after their data in line with IT security best practice and that privacy is respected at all times.
ISO 27001 for our customers.
Customers who are looking to achieve a security standard themselves have more than one route to choose. Some will require ISO 27001, especially if this has been requested by a customer or other external party. Those businesses can rest assured that we understand the process they are going through, and we can work with their ISO 27001 consultant towards ensuring the right IT systems are in place.
Other customers may decide that Cyber Essentials is a more appropriate standard to work towards, and if that applies to you, we can take you through that journey. Click here to find out more about Cyber Essentials.
To find out more about ISO 27001 or Cyber Essentials, including how we can help, please contact us here.
Get in touch. Call now on 023 8038 6586
Or click the link to fill in our form.